Moissanite gemstone is the centerpiece of this antique pendant with chain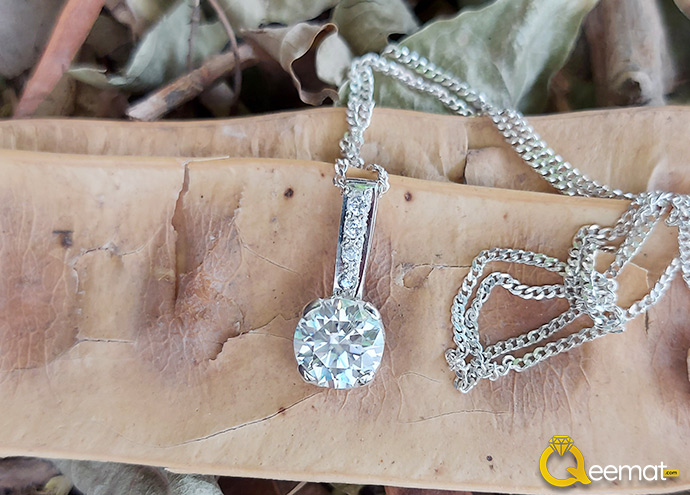 Moissanite is extremely resistant to scratching and abrasion
Moissanite pendant is exactly diamond-like and glossy
Moissnaite stone and 925 Sterling Silver make this pendant wonderful
Natural Moissanite Necklace For Girls
Natural moissanite has a great transparent hue and it is brighter like a diamond. Buying a guaranteed natural moissanite necklace with a chain is a marvellous choice for girls. The above shown silver made necklace is a wonderful handcrafted piece in which four small zircon stones are fitted on the ball.
Pure Chandi or Silver
Not only the gemstone is natural but also the quality of chandi used in making pendant and chain is pure. We use 925 silver according to international standard used by the jewellers.
Keeping in mind the purity of the metal, we also use real and natural gemstones. This moissanite also comes with GRA guarantee, a company which exports this precious gemstone to Pakistan and other parts of the world.
What to Prefer for A Necklace – Moissanite or Diamond
It is difficult to decide whether to buy a moissanite or a diamond because both of them have almost same hardness, lustre and fire. Even the lustre and fire of moissanite is better than a diamond. With a better lustre and fire, moissanite should be chosen for your pendant because of its huge price difference. Moissanite necklaces are cheaper in price and equally glossy and lustrous.