A Verse from Quran – Buy a pendant with the Bismillah version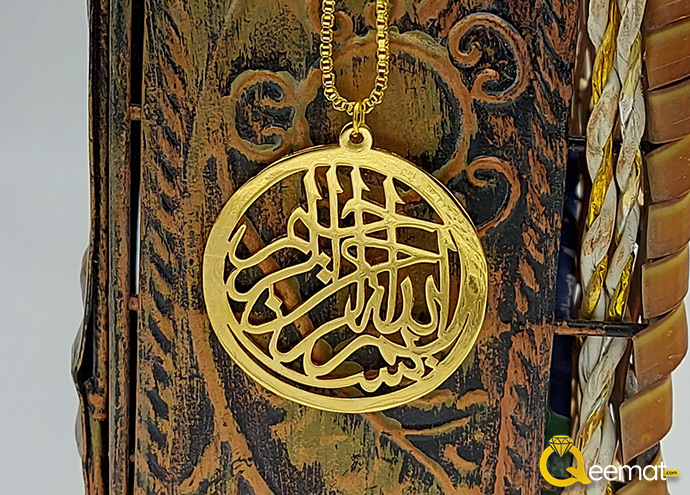 Bismillah Pendant in Gold – Available in golden color, this pendant brings the mercy of Allah
Buy in Silver(Chandi) or Copper – You can buy this pendant with chain in two metals
Bismillah Necklace in Silver – After selecting the metal, you can buy it in silver color as well
This elegant Bismillah pendant is gold plated and made with copper and is offered online at Qeemat.com. Customers can choose pure silver (21K Chandi) or a gold alloy (21K pure gold) as their preferred metal. Such religious pendants or necklaces are loved worldwide because of the religious affiliation of Muslims with Islam. As Arabic calligraphy has immense beauty in it that is why we have chosen this art of writing for making this pendant.
From selecting the design to the blacksmith creating it, this piece of jewelry goes through a lengthy manufacturing process. These stunning ornaments are made with alloys that are first designed by expert designers, and then they are finished by on-site jewelers.
A special cleaning liquid plays an important role in keeping jewelry items in good condition if made in Chandi or Silver. The customers are provided with instructions about the ordered product to ensure its stability and longevity.
Here on our website, we offer affordable prices with a minimum profit ratio keeping the clients' benefit in mind. We can also make different designs of Bismillah according to the choice of the customers.In a are very affordable prices we're offering calligraphy in different styles. Here women purchase all of the jewelry pieces needed for upcoming events. Booking products in advance can increase the chances of receiving them on time.