A towering style Yamini Aqeeq ring for men
A single color dark red agate is revered by all ring lovers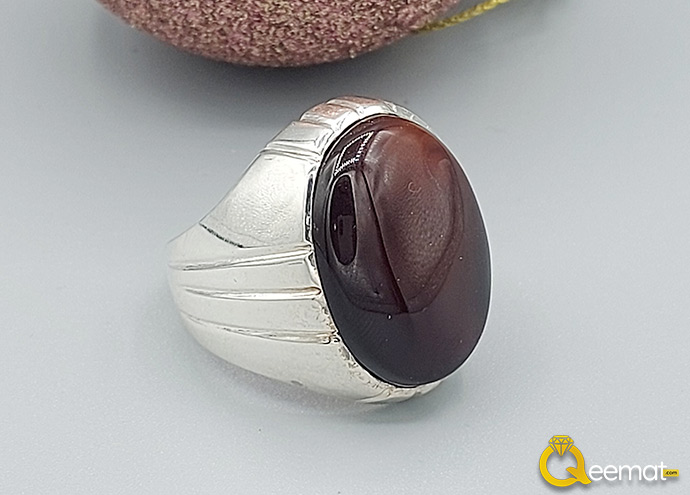 An Iranian style ring made with 925 sterling silver (Chandi)
The Aqeeq Stone Silver Ring is part of our special collection. Authentically made by hand, such design can take 3 to 5 working days involving hard labor and sophistication. You can purchase this silver ring online from our portal Qeemat.com, which is one of the simplest in design. We have used Yamni Aqeeq in this ring but you can select any gemstone which suits your star.
A magnificent design makes you look more glamorous and classy. In contrast to the traditional values of Pakistani culture, we have set our prices extremely low. Due to the Ring's size not being resizeable and the processing time of more than two weeks, you must be very careful when ordering its size. Please take the measurement to a jeweler near you and inform us.
Among Pakistani people, they prefer a ring settled with an Aqeeq stone since it is considered beneficial. There are many references as well to confirm the importance of this ring in Islam as well. Agate is called Aqeeq, Dur e Najaf is called Dur e Najaf, emerald is known as zamurd, garget is called yaqoot, and opal is known as doodhiya. pearl is called moti, sapphire is called Neelam, topaz is known as pukhraj, turquoise is called feroza, and zircon is called zircon in Urdu in Pakistan.
It is easy to buy and select a design for a ring from Aqeeq Stone online in Pakistan. Both men's and women's rings are available in the collection. Jewelry that corresponds to a girl's and men's class and traditional program is also available.