A gold plated pendant with custom couple name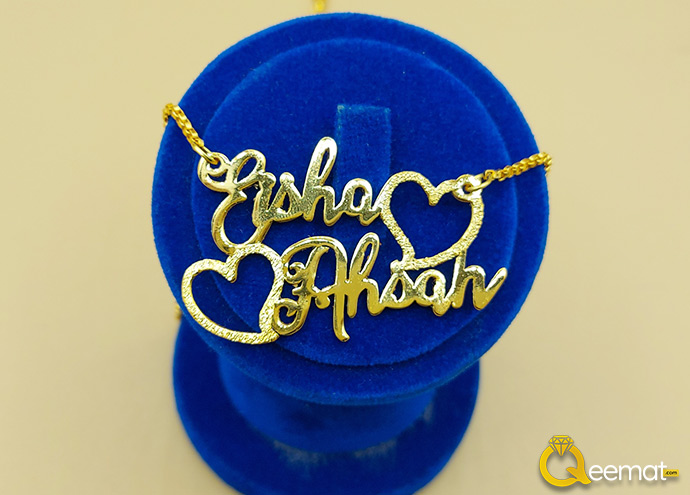 It can be ordered in silver (chandi) or copper (artificial) metals
The pendant shines like stars in the sky
Addition of heart shape make it super fit for love couples
The Design Quality
The magnificent name locket for couples is custom designed and manufactured by Qeemat.com designers and artisans. You can order a custom locket with your name to gift your husband, wife, fiancé etc. This custom name couple locket can be ordered in two different metals, namely artificial made of copper or pure silver (chandi). The heart shape used in this design can be changed and you can plan an altogether new design which can be prepared for you by our team of designers and artisans.
Order in Copper or Silver(Chandi)
We receive orders in two metals only copper or silver but you can order this in pure gold as well. The price for artificial couple name locket is 1650 and for silver made the price is 4900. You can chat with us on our given Whatsapp number to order this product in gold. We make these lockets in 18 carat, 21 carat or 23 carat gold.
A Valuable Gift for Wedding Ceremony or Anniversary
If you want to send a gift to your partner on your wedding ceremony or your wedding anniversary then this couple name locket made of silver can be a precious gift for your partner. We take 3 to 5 working days to send this gift on your given address. Contact on our WhatsApp number at +92 310 6009500 and discuss your desired product with us.
How To Order?
The process to order a custom name couple locket is very simple. Just select the design from our collection and click on it. After that select the metal in which you like to order and enter the name to be printed in the text field. After that fill the form for address, phone number etc. so that we can send the parcel on this address.