A smart font for the smart people to order a smarter name pendant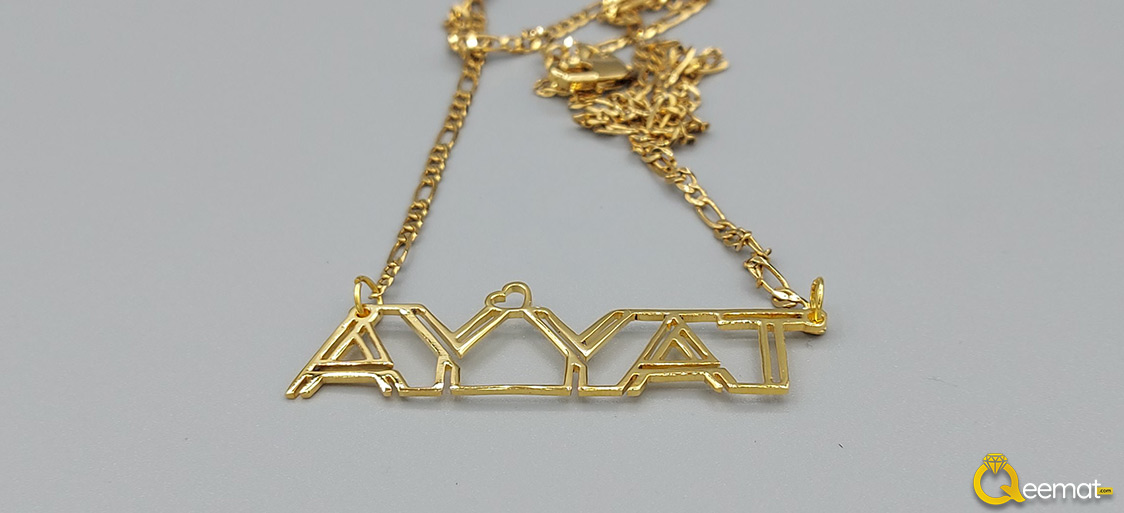 Get a custom name pendant in custom font of your liking
Send a custom name pendant with a chain either in Silver or Copper
Select the gold or silver color for your pendant
At qeemat.com, order a pendant of your custom name in "Ayyat" style with 24K gold plating or pure silver. We can design your name in new and stylish fonts and enhance your beauty as you will wear it in any festival or party. Pendants such as these are beautifully designed and filled with a glamorous shine. Togther with that you can magnify its value by ordering it in 24k pure silver or chandi.
You can wear pendants with almost any kind of dress and it isn't difficult to match them with your outfits. Having customized name pendants around your neck is an important consideration when attending festivals, weddings, and other celebrations. We give you an incredibly adorable and unique pendant for a very low price. It is polished by jewelers who are very knowledgeable and experienced in polishing precious metals.
We appreciate your choices, and we also welcome other names to be engraved on this design as well. On this website, you can choose from a wide range of design options and fonts. You can do a great favor as well if you give a name pendant as a gift to your beloved one to create a stronger bond. The recipient will be reminded of you each time he or she wears it, and if you want to give them a pendant made in pure gold, you can order that from this website as well. We at Qeemt.com are offering you the quality you need at an affordable rate while ensuring you a good buying experience.