Mobilink-Warid Merger Brings Happy News for Mobilink & Warid Clientele:
After the successful merger of Warid with Mobilink, the resulting Mobilink-Warid telecom company has emerged with over fifty million users across the country. Now calls with certain prepaid and postpaid packages are considered as on-net calls on both the networks. It has proved to be very beneficial for the individuals connected with either Jazz or Warid cellular service providers. The customers of one company can make calls to clients of other cellular operator at incredibly low rates, i.e. as on-net calls.


Some of the great calling plans are detailed below:
Mobilink-Warid Daily Supper Bundle Plan:
This great calling plan of Daily Super Bundle charges you just Rs. 13 including taxes. Against such an incredibly low amount, the users will get 250 minutes for making calls from Warid to Mobilink and vice versa. The validity of the package is for one day. For activation of the plan, you need to dial *212# from either of the mutually merged networks. The code for un-subscription is *212*4#.

Weekly Bundle for All Networks:
The weekly all-network offer can be activated by dialing *700# from either Mobilink or Warid cellular operator, whichever you might be using. This plan will cost you 120 rupees including tax. The plan will last for 7 days from the time of subscription and activation. Here, in addition to 700 Warid + Jazz minutes, you also get 50 minutes for other local networks, i.e. uFone, Zong and Telenor. There are 700 SMS for all the local networks. Meanwhile, the package includes 250 MBs of data. The code for un-subscription is *700*4#.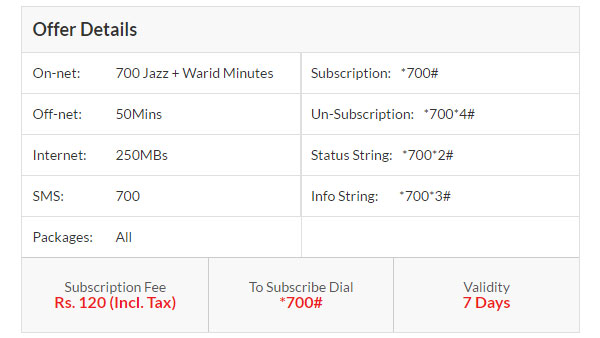 On-Net Calls Not Available with All Packages:
There are some selective packages which consider the calls across Warid and Mobilink as the on-net calls. They include both prepaid and postpaid plans. They are actually daily or weekly call offers or bundles. However, the other call packages are not considered mutually on-net. In this case, calling from Warid to Mobilink or vice versa will involve regular off-net charges.
Mobilink, Warid Still in the Process of Integrating Services:
Though the merger of Warid with Mobilink has been successfully completed, the process of integrating services is still underway. Meanwhile, Mobilink has started terming the Jazz to Warid calls as on-net calls but only for selected plans. Once the integration of services is complete, the calls for all the plans would be regarded as on-net calls. A senior official of the merged company has issued a statement that complete integration of service might take the period of six to nine months. After that, all the customers of both cellular operators will come under one company with singular calling tariffs.