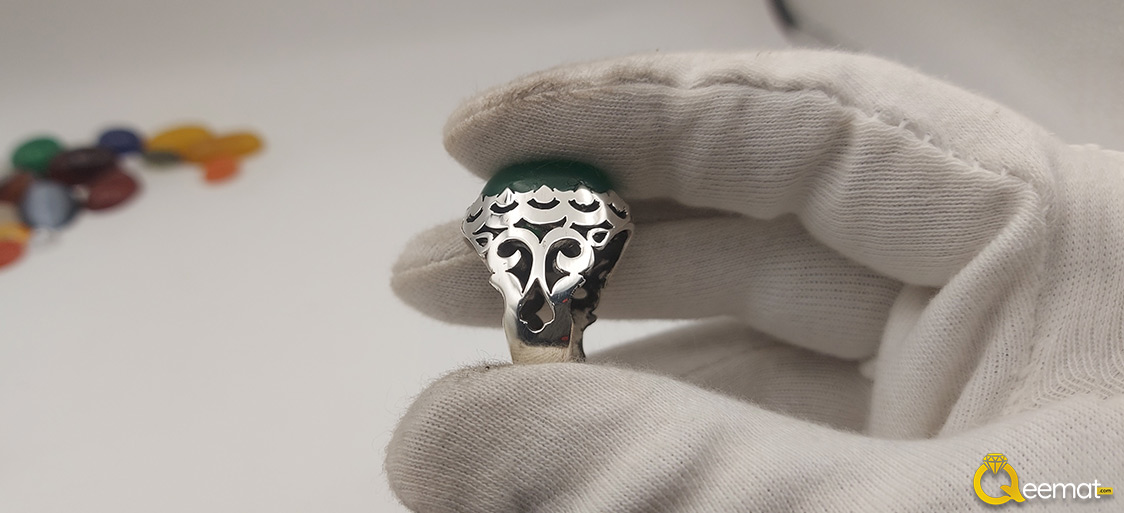 Netted Green agate Ring made Of 925 Sterling silver- Gift for him
The stylish Netted Green Agate Ring is crafted to perfection with 925 sterling silver. This ring is the perfect addition to your beloved's accessories collection. The sleek and simple design features a pure silver band without any stones, making it perfect for everyday wear to the office or special occasions. You can trust your purchase with Qeemat.com, the leading online retailer for high-end jewelry, and even have the option to send this gorgeous ring as a gift in any size! The intricate netted design on the shank and the striking green agate on the head area add a touch of elegance and sophistication to this must-have accessory. Don't miss the chance to get your hands on this captivating ring!
The Beauty of Shank and the Head
The beauty of this ring is in its details, from the intricate netting design to the stunning green agate stone. The shank of the ring is made of 925 sterling silver, which provides a beautiful contrast to the green stone. If you're tired of giving the same old gifts year by year, this silver men's ring is the perfect way to switch things up. This ring is a unique and thoughtful gift that's sure to impress the special person in your life.
The Significance of 925 Sterling Silver
925 sterling silver is a high-quality and durable material that's perfect for jewelry. This type of silver is comprised of 92.5% pure silver and 7.5% copper, which gives it strength and durability. It's also a hypoallergenic material, which means it's safe for those with sensitive skin.
Buy and Send As a Gift in Any Size
Another great feature of purchasing from Qeemat.com is our ability to send the ring as a gift in any size. This is perfect for those who may not know the exact size of their loved one's finger. Qeemat.com takes the hassle out of gift-giving by offering this convenient service.
The Healing Properties of Green Agate
Green agate is a beautiful and powerful stone that's known for its healing properties. It's believed to promote physical and emotional balance, as well as boost your confidence by adding charm to your hands.
Natural Sky Blue Topaz Ring – Emerald Cut Square Stone with 925 Sterling Silver