In its strive to increase the clientele and fetch more market share in the highly competitive environment, Telenor proudly announces the launch of 4G hotspot devices. These devices are economical and claim to give better connectivity and performance for online data traffic.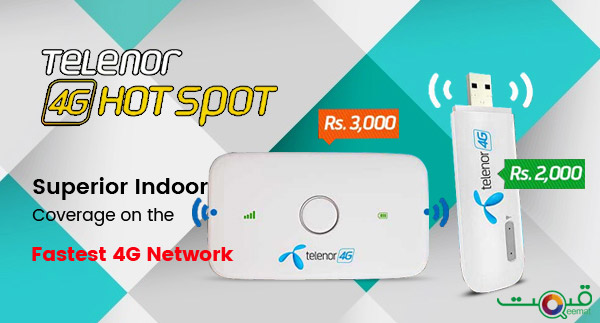 When the 3G & 4G networking technologies were launched in Pakistan and the licenses were on sale, it was only Zong that bought the license and offered its customer 4G services. Telenor didn't go the 4G license at that time. Similarly, the Zong 4G Wingle devices are already in the market. Telenor finally steps in to facilitate the internet users.
The Norwegian multinational telecommunication company is going to offer better services for this high speed internet connectivity. Telenor Pakistan has already won the hearts of the customers by offering extremely cheap internet packages on SIMs.
4G Devices & Packages – Zong versus Telenor:
When you compare Telenor's 4G devices with those from Zong, the latter appears more attractive especially for offering cheaper data packages. Telenor may enjoy superiority only in terms of quality of services. For example, Zong 4G LTE Wingle gives you an internet bundle of 24 GB against 1,500 rupees. Telenor 4G Wingle, on the other hand, offers the volume of only 20 GB against the same price.
Nevertheless, Telenor has an attractive data bundle at its end especially for those who do not have to do so much work on internet. Here you can avail a 75 GB internet package for 4,000 rupees with the validity of three months. It means, the users will get a volume of 25 GB for a month against 1,333 rupees.
Connect up to 16 Wi-Fi Devices:
With Zong's 4G Wingle, you can connect only 10 devices. Telenor's advance 4G WiFi hotspot allows the users to enjoy high speed internet on as many as 16 devices including smart phones, laptop PCs, tablets, LED, Smart Watches and so on. In this case, the price of hotspot device is a bit high, i.e. Rs. 3,000. This, however, doesn't make that much difference.
Specs of Telenor 4G Hotspot Devices
4G Hotspot Wingle
Plug & Play
Connect to USB power source or a computer
Connect up to 10 Wi-Fi devices (Smartphones, Tablets, Laptops, Smart Watches, LEDs or other Wi-Fi devices)
4G/3G/2G Fall back option
4G Hotspot MiFi
Press & Play
Connect up to 16 Wi-Fi devices (Smartphones, Tablets, Laptops, Smart Watches, LEDs or other Wi-Fi devices)
1500mAh rechargeable lithium battery
Maximum Working Time: 6 hours
Maximum Standby Time: 300 hours
4G/3G/2G Fall back option
Telenor 4G Hotspot Price & Packages
| | |
| --- | --- |
| 4G Wingle | Rs. 2,000 (PKR) |
| 4G MiFi | Rs. 3,000 (PKR) |
4G Packages
4G Monthly Lite
Charges
Volume
Validity Period
Activation Code
Rs. 1,500 (Pak Rupees)
20GB
30 Days
*345*1001#
4G Monthly Smart
Charges
Volume
Validity Period
Activation Code
Rs. 2,200 (Pak Rupees)
55GB
30 Days
*345*1002#
4G Monthly Value
Charges
Volume
Validity Period
Activation Code
Rs. 3,800 (Pak Rupees)
100GB
30 Days
*345*1003#
4G Monthly Unlimited
Charges
Volume
Validity Period
Activation Code
Rs. 6,000 (Pak Rupees)
180GB
30 Days
*345*1004#
4G 3 Month Bundle
Charges
Volume
Validity Period
Activation Code
Rs. 4,000 (Pak Rupees)
75GB (25 GB/ 30 days)
90 Days
*345*1005#