Choose Either A Shinning Zircon or A Brilliant Amethyst
Zircon gemstone is lustrous in nature and shiny in its composure. Any ring made of Zircon gemstone can be worn by Virgo, Pisces or Gemini people. This ring is so lustrous that it attracts the human eye automatically and quickly.
A "Burfi" Style Handmade Ring for The Lovers of Sterling Silver Rings
For its lustrous making, this ring can be worn on parties and ceremonies to be prominent among the participants. Buy this beautiful ring made especially for men or boys of any age and be the star of any event.
The Colours of Zircon or Amethyst Are The Colours of The Young & Charming People
Zircon is a shiny lustrous gemstone which has an unprecedented resemblance with diamond and is often used as a substitute for it. In this ring a finely shaped , blue zircon is fitted skillfully in a pure and shiny sterling silver hoop making it a masterpiece.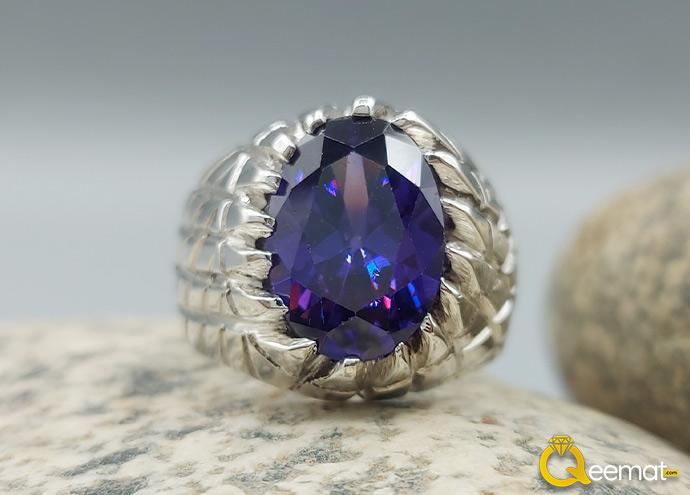 A Modern Design with Glamorous Shine of Natural Gemstones
This medium weighted blue zircon ring is a go-to ring for any occasion or for daily wear. If you are
confused about what gift to buy for your father, husband, boyfriend or brother , this ring is the solution to all your confusion. Order now and get this beautiful piece for yourself or for your loved ones.
A Design Which is 100 Times More Beautiful in Hands Than in Pictures
The criss cross pattern made on the shank of the ring is known as the "barfi-style" pattern which is unique and delicate. High quality scraping and carving tools are used to make this pattern clean-cut. This ring is available in different sizes but can easily be customized according to the diameter of your finger.